Castros say they knew nothing of Cleveland kidnappings. How is that possible?
Members of the Castro family say they saw signs that Ariel Castro was hiding a dark secret. But in dysfunctional families, people often don't ask questions 'because you don't want to know the answer,' one expert says.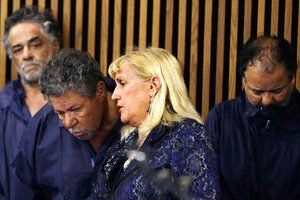 Tony Dejak/AP
The brothers and children of Ariel Castro, speaking up now that he has been charged with kidnapping and raping three women whom he allegedly kept captive for a decade, are saying that they suspected he might be hiding a dark secret.
"All these weird things I noticed over the years about how he kept the house so locked tight in certain areas…. Everything is making sense now. It's all adding up," Angie Gregg, his daughter, told CNN Thursday.
Other family members have echoed these words, saying Mr. Castro kept multiple padlocks on most interior doors of his home, nailed windows shut, and prohibited guests from going upstairs or in the basement. He played loud music, presumably, they say, to drown out the noise of his captives. And Ricky Sanchez, a friend, told the Associated Press last week that Castro told him dogs were the source of the banging he heard from the other side of a wall. The door, Mr. Sanchez said, was secured with four or five padlocks.
Family members and friends have spoken to the press during the past week to express their sadness at what happened and to clear their names. In one poignant moment, Ariel's daughter Arlene Castro appeared on "Good Morning America" and sobbed apologies to Gina DeJesus, a childhood friend and one of the women Castro allegedly held captive. Ariel Castro's brothers, Pedro and Onil Castro, who were detained with Ariel but then cleared by police, took to CNN this weekend to plead their innocence.
---