Disneyland dry-ice blast threatens aura of 'happiest place on earth'
Disneyland and Disney's Animal Kingdom both saw incidents this week that pointed to weaknesses in park security. But ramping up security might not be an acceptable answer.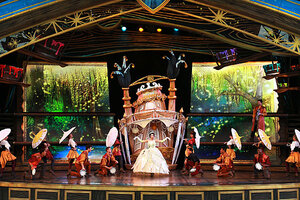 Paul Hiffmeyer/Disneyland Resort/AP
The sign at the entrance to Disneyland famously reads "The Happiest Place on Earth." But this week, the worries of the everyday world have intervened.
On Sunday, a grandmother found a loaded .38 caliber Cobra pistol on her seat on the dinosaur ride at Disney's Animal Kingdom in Orlando, Fla. Then Tuesday in Anaheim, Calif., Disneyland's Toontown was evacuated after a trash can exploded.
In recent years, parks worldwide have ramped up basic security measures such as checking purses and bags upon entry, beefing up undercover security patrols, and adding cameras. But while some park chains have introduced metal detectors, Disney has not, "because this can be seen as very scary for young children and families, which are the target market for these parks," says Paul Ruben, North American editor of the trade journal Park World
Disney "has a remarkable safety record," Mr. Ruben adds, but as theme parks that entertains millions of visitors annually — 17 million at Disney World and 16 million at Disneyland in 2011 — the events of this week spotlight Disney's balancing act between keeping families safe and keeping their parks family-friendly.
"These events can be very debilitating for a theme park," he adds. "Because people go to parks to be happy, they are not thinking about security, so it's more important than ever that the park make sure the facility is safe."
---