Atlanta cold snap: Why is it sweater weather in the South?
Atlanta looked set to break a second straight record for a lowest maximum temperature on Friday, capping one of the coolest, wettest summers on record for the usually sweltering city.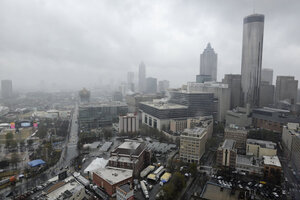 Mike Stewart/AP
If you woke up in Atlanta this supposed summer morning, you might have walked out on the porch, and gone right back in for a sweater.
On Aug. 16, a time of year when average daytime temperatures hover at 88 degrees in the Phoenix City, the mercury had stalled at 64 degrees at 1 p.m., six degrees below the record low for a high temperature, set in 1892, of 70 degrees.
Thursday's 73-degree reading was also the coolest Aug. 15 ever on record in Atlanta, besting a record low high of 77 degrees in 1908.
"For what it's worth, based on our high temperature [on Thursday], there's some interesting locations that actually got at or warmer than us that were in Canada, Minnesota and Maine," says Peachtree City, Ga.-based National Weather Service meteorologist Adam Baker.
---