Cyber-disconnect at joint US-China press conference. Is that a problem?
Defense Secretary Hagel called a new US-China cyberaffairs working group a 'venue for addressing issues of mutual concern.' His counterpart denied there was a problem.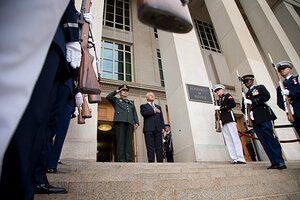 Evan Vucci/AP
The Pentagon has made no secret of its concerns about China's cyberincursions into US networks and of the ways in which these forays complicate the US-China relationship.
For this reason, cyberespionage was high on the list of points of "mutual concern" for the two nations, Defense Secretary Chuck Hagel noted at a closely-watched joint press conference Monday with his Chinese counterpart.
To this end, Mr. Hagel pointed to the recent establishment of a new US-China cyberaffairs working group "as a venue for addressing issues of mutual concern in the area of cyber."
But what are the prospects for this working group having much success?
It did not bode well, analysts noted, that the Chinese minister of defense, Gen. Chang Wanquan, denied at the same press conference that there was actually a problem between the two nations.
"The Chinese military has never supported any form of hacker activities," he said.
The veracity of this assertion may depend on how the Chinese military defines hacking.
Certainly, the Peoples Liberation Army (PLA) has engaged in state-sponsored cyberattacks, according to an oft-cited report by the cybersecurity firm Mandiant.
The group uncovered a cybercell that it dubbed APT1, saying it is responsible for hundreds of web-based attacks. The cell, it concluded, "is likely government-sponsored and one of the most persistent of China's cyber threat actors."
"We believe that APT1 is able to wage such a long-running and extensive cyber espionage campaign in large part because it receives direct government support," Mandiant said.
---