Objections roll in on Detroit bankruptcy filing, to what effect?
Some 100 creditors of the city of Detroit have now filed their objections to a bankruptcy filing that, if it proceeds, would be the largest municipal default in US history. Even if they lose, they may be able to slow the process – and postpone losses for city workers and retirees.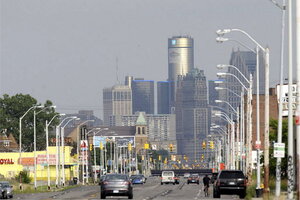 Carlos Osorio/AP/File
Some 100 creditors of the city of Detroit, which has petitioned a federal court for bankruptcy, have now filed their objections to that course of action on grounds it would be unconstitutional – a move that bankruptcy experts says is likely to slow, but probably not halt, the city's efforts to get out from under its mammoth debt burden through bankruptcy.
The official objections filed Monday were primarily from public-sector unions, whose retirees and pensioners stand to lose mightily if the city's bankruptcy filing under Chapter 9 were to proceed. They argue that Detroit is not insolvent, despite its claim that it owes creditors billions of dollars, and they take issue with the debt assessment of Kevyn Orr, the emergency financial manager for the city appointed in May by Michigan Gov. Rick Snyder (R).
Mr. Orr says Detroit is saddled with at least $18 billion in debt, including $3.5 billion in underfunded pension liabilities and $5.7 billion in other retiree benefits. If the bankruptcy proceeds, it will be the largest of any city in US history.
The unions suggest that Orr is inflating the debt levels to support the political agenda of Governor Snyder, and they also worry that a federal bankruptcy court will void a statute in the state constitution that protects pensions from bankruptcy restructuring.
"The proposal is part of a deliberate strategy mapped out by lawyers now on the city's legal team in which Chapter 9 is used as 'leverage' – a blunt instrument – to force [city] retirees and pension-vested workers into negotiating away their benefits, despite the protection afforded those benefits by the Michigan constitution, which dictates that such benefits should not be at risk in this process at all," Babette Ceccotti, attorney for the United Auto Workers (UAW), wrote in a court filing.
---