For Pakistani schoolgirl Malala, education is everything
Malala Yousafzai, the Pakistani schoolgirl shot by the Taliban, brought her message to Boston Saturday night. 'Education is not Eastern, neither Western,' she says. 'Education is everything.'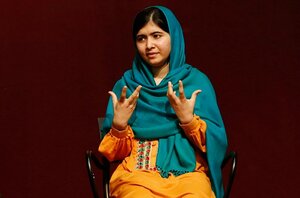 Jessica Rinaldi/AP
Malala Yousafzai slipped unassumingly onto a make-shift stage, trailed by her father, and greeted with a crescendo of applause from the Boston audience.
The sixteen-year-old Pakistani schoolgirl, who was shot on her way home from lessons just over a year ago on orders from the Taliban has become the spokesperson for the millions of children worldwide who are denied the opportunity for an education, and was even a nominee for the Nobel Peace Prize.
In the week before she appeared in Boston, Malala had spoken before the United Nations, appeared on Jon Stewart (leaving the commentator speechless), and urged President Obama to wage war in Pakistan with books, rather than drones.
Throughout the evening, Malala spoke with the poise of someone twice her age, though small anecdotes– about her schoolyard rivalries, and love of the American TV show "Ugly Betty"– seemed to confirm that the human rights advocate is, in fact, a teenager.
A little over a year ago, Malala's name was not well-known outside of her native Swat Valley in the northwest corner of Pakistan.
---