Can Obama recover from his 'horrible, no-good' week?
President Obama's bad week included weak jobs numbers, the Wisconsin recall vote, less-than-helpful comments by Bill Clinton, and his own verbal gaffe. Obama has the edge in most polls, but there could be more bad weeks between now and the presidential election.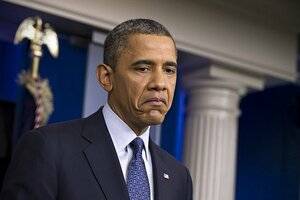 J. Scott Applewhite/AP
In what looks to be a historically contentious campaign season, there's at least one point on which there's no argument: The past week was particularly bad for President Obama – a "terrible, horrible, no-good, very bad week," as the headline over Chris Cillizza's "The Fix" blog at the Washington Post puts it.
Look at what happened: Lousy employment numbers report (just 69,000 jobs created in May and unemployment ticking up to 8.2 percent); failed recall of Republican Gov. Scott Walker in Wisconsin (a major blow to unions, a key part of the Democratic base); Mitt Romney and the Republican National Committee raising a lot more money last month than Obama and the Democratic National Committee; Bill Clinton – again – going off-message on a key point Obama's been trying to make (end the Bush-era tax cuts for the wealthy).
Then, at week's end, there was Obama's own major gaffe now chiseled in stone in GOP campaign ads – his off-hand declaration that "The private sector is doing fine." – which the normally well-scripted Obama had to quickly walk back.
On Sunday, the Romney campaign released a new video contrasting Obama's "doing fine" quote with images of Americans recounting their economic struggles.
---