How Obama, Romney are spinning court's health-care ruling
Republicans and Democrats are putting their political spin on the US Supreme Court's historic and startling decision on the Affordable Care Act. As they head toward the presidential election, both Barack Obama and Mitt Romney have major challenges in interpreting the law.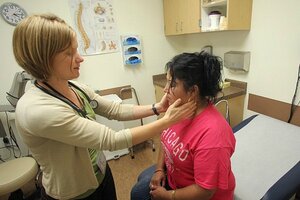 Rick Bowmer/AP
Ever since the US Supreme Court issued its startling decision on the Affordable Care Act (ACA) Thursday morning, the presidential campaigns of both Barack Obama and Mitt Romney have been spinning the ruling like crazy.
Just some of the issues with wildly different political interpretations include: Defining the details and impact of what the court says plainly is a form of taxation – the basis, in fact, of the constitutionality of what critics call "Obamacare." What the outcome would be for Medicare. The number of already-insured Americans who would have to scramble to find new health care coverage. Whether or not the ACA is a "job-killer." Whether or not the deficit would go up or down as a result of this landmark legislation.
Obama may have won big in the high court – "Did Obama Just Get His Mojo Back?" asks the headline on a piece at Slate – but both the President and his likely GOP competitor have major political challenges as a result of the ruling.
How much do you know about health-care reform? Take our quiz.
For Obama, it's the ACA's cost to individuals and families of a massive new government program designed to reform health care insurance in major ways, and Republicans were quick to jump on that.
---