Unemployment down: which states are doing better than others
Unemployment rates fell in 45 states in November, but the strength of the job market varies widely by region, according to US data. Local resources and housing markets are among the reasons.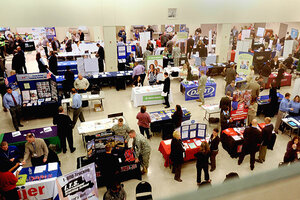 Greg DeRuiter/Lansing State Journal/AP
Unemployment fell in 45 states in November, but that doesn't mean the job market is uniformly strong.
The newly released data from the Labor Department reveal stark differences by state and region: Some are still mired in deep trouble, while others are improving rapidly or enjoy "full employment" conditions.
Some overall patterns:
• The Plains states, rich in energy and agriculture and relatively light on population, have the strongest job conditions. The unemployment rate is just 3.7 percent in Nebraska, for instance, and still falling. That's close enough to zero that the state can be considered at full employment (given that any labor market tends to have some people in transition at any given moment). Joblessness in a number of neighboring states is in the 5 percent range.
• Many housing bust states are improving along with the market for real estate. The biggest centers of the housing collapse were "sand" states: California, Arizona, Nevada, Florida. All still have unemployment rates above the national average, but joblessness has been falling steadily this year. In fact, Arizona and Florida are at 7.8 and 8.1 percent, respectively, not far above the nationwide rate of 7.7 percent. California stands at 9.8 percent, and Nevada at a nation-leading 10.8 percent.
• The Northeast has the biggest momentum problem. Although the unemployment rate improved in these states last month, compared with October, the picture has actually darkened when measured over a six-month span. New Jersey, plus all six New England states except Rhode Island, have seen the jobless rate rise since May. New York, for its part, has been essentially flat over the past 12 months.
---