Postmasters general, kings of political patronage?
(Read article summary)
Postmasters general were once powerful figures who were members of the cabinet and often among a president's closest political and personal advisers. What happened?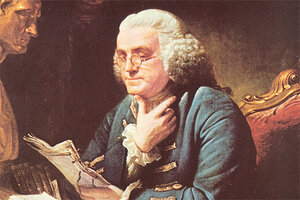 Newscom/File
It's a government job that's older than the Declaration of Independence. It's been filled by powerful and important people – including the cleverest of the Founding Fathers. It's a post that's been crucial to America's identity and economic growth.
It's the position of (cue Sousa march music) the United States postmaster general!
Come back here – don't go wandering off toward the "pictures of the week" page. Sure, you might think that running the Postal Service is sort of a downer today, given that it's on track to lose $7 billion this year.
But before FedEx and e-mail, before proposals to can Saturday delivery and shut some post offices, the postmasters general were people of consequence. They were often among a president's closest political and personal advisers.
They were even members of the cabinet – up there with the secretaries of State, Treasury, and so forth – for 142 years.
Why? Two reasons.
1. Prior to the invention of Twitter, the delivery of actual pieces of paper to your home or business was a very big deal.
2. The Postal Service was a huge job bank. Postmasters general were thus kings of political patronage – until civil service reforms ended 
that.
---
Follow Stories Like This
Get the Monitor stories you care about delivered to your inbox.