US aid to Egypt: What does it buy?
(Read article summary)
Since 1979, Egypt has averaged $2 billion a year in US aid. Lately, the military has received at least half that, using it to cover most of its weapons purchases.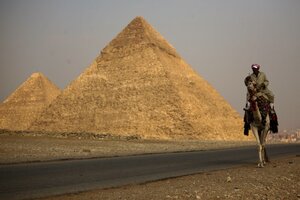 AP/Emilio Morenatti
The U.S. has given Egypt a lot of money over the years. How much? More than you probably think.
Since 1979, US assistance to Egypt has averaged about $2 billion a year, according to a new Congressional Research Service (CRS) report on US-Egyptian relations. That adds up to a whopping $64 billion.
In that period, Egypt has been the second-largest foreign recipient of US cash. (Israel is No. 1, in case you're interested.) In part, that's a legacy of the Camp David Accords. The United States promised generous aid packages to both Egypt and Israel in return for their making concessions to each other in a peace pact.
The accords' architect, President Jimmy Carter, and Egyptian President Anwar Sadat got along like a house on fire, by the way. Maybe that had something to do with it – it's always easier to write checks to people you like.
---