Psst, students. Still hope for low-rate student loans, despite Senate balking
(Read article summary)
Without a fix, interest on some subsidized federal student loans would double to 6.8 percent starting July 1. But Thursday's Senate votes are still just theater. Expect parties to haggle over the cash until June 29.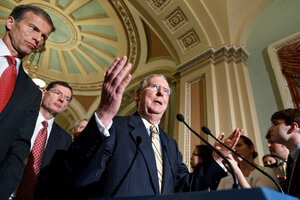 J. Scott Applewhite/AP/File
With interest rates on certain student loans set to double on July 1, the Senate channeled its inner college student by pulling the legislative equivalent of picking up an Xbox controller or logging into Facebook.
That is, the senators procrastinated in the face of an impending deadline.
The Senate was looking to "express itself" on the student loan issue on Thursday, as minority leader Mitch McConnell (R) of Kentucky put it the day prior. What senators expressed was a willingness to put actual work on student loan rates aside until at least after next week's district work period, as senators rejected both the Democratic and Republican options for picking up the $6 billion tab for extending low interest rates another year.
Without a congressional fix, interest on some subsidized federal loans would double to 6.8 percent starting in July. That's an outcome that neither party – and neither presidential nominee – says is desirable. Yet the parties can't decide how to come up with the cash to pay for keeping the rate low.
By allowing votes on both doomed measures, Senate Democrats nudged the student loan debate incrementally forward: Republicans blocked a vote on the Democratic proposal that would generate $6 billion by closing a payroll-tax loophole for a certain subsection of corporations, earlier in the month.
---