How to reengineer an engineering major at a women's college
A Smith College professor's program may provide a pattern for how to attract and keep women engineers.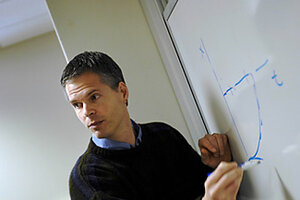 joanne ciccarello – staff
The story is legendary: Glenn Ellis arrives at his engineering class dressed as a mountain climber. He hooks a rope to the ceiling, projects snow-capped scenery on the wall, and asks a volunteer to join him in a mock ascent.
It's not an exaggeration to say that at moments like these, students hang on Professor Ellis's every word.
His continuum mechanics class had been studying the case of a major hotel walkway that collapsed in 1981. By discussing materials and structures from a climber's perspective, he not only made the lesson fun, but he also "masterfully illustrated the underlying concept of what went wrong ... in a completely different context," says Prof. Borjana Mikic. She has known Ellis since they arrived in 2001 to create the Picker Engineering Program at Smith College here.
The first women's college to offer an engineering degree, Smith is forging new paths in a field that's eager to swell its ranks in the United States. Women receive only 20 percent of bachelor's degrees in engineering, according to a new report by the National Science Board (NSB). Like a handful of other liberal arts colleges, Smith is producing graduates who've had a different type of engineering education – one that goes beyond technical training to focus on a broader context for finding solutions to humanity's problems; one that emphasizes ethics and communication; one so flexible that about half the students study abroad, which is rare, despite the multinational nature of many engineering jobs.
---