Focus on algebra, U.S. panel tells schools
To catch up with other nations in math, schools should teach fewer topics in more depth, it says.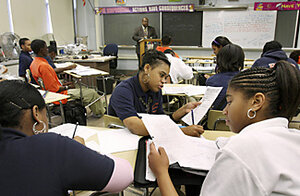 Rob Carr/AP/File
American students have fallen below top-performing nations in math because their courses skim the surface of too many topics, critics say.
Now a prominent national panel is calling for schools to focus on key topics that promote success in algebra, a gatekeeper for higher-level math and science. Its closely watched report, released Thursday (see www.ed.gov/mathpanel), is part of a growing chorus of voices calling for reform in US math education.
"There's starting to be a critical mass behind doing something," says Maria Klawe, president of Harvey Mudd College in Claremont, Calif., and a board member of the nonprofit Math for America, which recruits and trains math teachers. "I'm optimistic that ... the various groups within states ... will look at this [report] and will change their curriculum objectives."
The changes offered by the National Mathematics Advisory Panel are significant.
Key pre-algebra skills would get more focused attention, experts say. The report's emphasis on algebra stems partly from research showing a correlation between doing well in the subject and going on to gain a college degree and earn a good income. Growth in math- and science-related jobs is outpacing growth in other fields 3 to 1.
---