Medical school reinvented: Adding lessons in compassion
The education of doctors puts new focus on patients' cultural diversity and serving communities in need.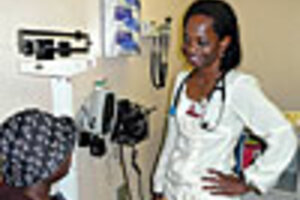 stacy teicher khadaroo/The Christian Science Monitor
At the start of the new school year, a dream is finally coming true for Hanadys Ale.
She has wanted a career in medicine since girlhood, when she saw how compassionately a doctor treated her grandmother at their home in Cuba. But she interrupted her medical studies to move to Miami with her family. Now, having mastered English, she's back on track as one of 43 students in the inaugural class of the new medical school at Florida International University (FIU).
But the curriculum here is no conventional training, representing one of the most thorough reinventions of medical education in a century.
Known as NeighborhoodHELP, it will pair each student with a low-income family facing barriers to healthcare. With teams of fellow students from nursing and social work, the aspiring doctors will observe and support the families throughout their years in medical school. Alongside more traditional medical lessons, they'll get steady doses related to ethics, cultural understanding, and public-health policy.
Ms. Ale says, in a phone interview, that she was drawn to this program at FIU because it emphasizes serving communities in need. "It's changing the way medicine is seen in the United States, so we are like double pioneers," she says of her class.
Medical education in the United States is in a period of expansion, with at least a dozen new schools under development and classes expanding at more than 100 existing schools.
---