Obama's new push for preschool for at-risk children
President Obama wants to offer states some $1 billion a year to help them improve preschool and early education programs for at-risk children.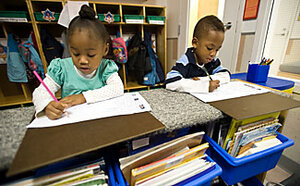 Stephen J. Carrera/ Special to The Christian Science Monitor
One of the first things to strike a visitor at Chicago's Educare center is the calm.
In every room, kids – ranging in age from birth to 5 years old – are happily interacting with their teachers and with one another.
It's clear the kids here are learning. And it's an environment, say education experts, that is too often absent from the sort of child-care and preschool programs that serve at-risk populations.
It's also a model that some hope will become more prevalent if the Obama administration's Early Learning Challenge Fund becomes law. The House has already approved the fund as part of a larger bill, which is now awaiting action in the Senate.
The $8 billion fund ($10 billion in the Senate version) represents the biggest federal investment in education in more than a decade.
"This is the 'race to the top fund' for early education," says Cornelia Grumman, executive director of the First Five Years Fund, an advocacy group in Chicago, referring to the challenge grants that the Obama administration has been giving to spur K-12 education reform.
The proposed fund offers about $1 billion a year total in challenge grants to states to help them improve the quality and governance of early-childhood education programs for at-risk children. In comparison, the annual budget for Head Start, the largest federal foray into the preschool years, is about $7 billion a year.
The new fund would be paid for through savings generated from another part of the legislation – an overhaul of the administration of college loans.
---