Race to the Top: Which states made the list of finalists?
Education Secretary Arne Duncan announced Thursday that 15 states and the District of Columbia are finalists for Race to the Top education grants. The winners will be chosen in April.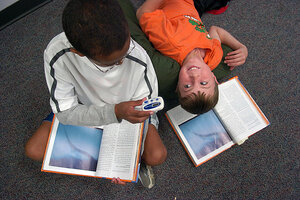 Newscom
States competing for billions of dollars in education stimulus funding found out today whether they're still in the running for the "Race to the Top."
Out of 41 applications, 15 states and the District of Columbia have made the cut so far. They've been invited to Washington to make the case that they will be the best trailblazers for innovation and reform in K-12 public schools.
The competition has been a catalyst "to dramatically reshape America's educational system ... prompting states to think deeply about how to improve the way we prepare our students for success in a competitive 21st century economy," Secretary of Education Arne Duncan said in announcing the first round of finalists.
The finalists are: Colorado, Delaware, the District of Columbia, Florida, Georgia, Illinois, Kentucky, Louisiana, Massachusetts, New York, North Carolina, Ohio, Pennsylvania, Rhode Island, South Carolina, and Tennessee.
---