Phoebe Prince case a 'watershed' in fight against school bullying
A Massachusetts district attorney recently filed charges against nine students for allegedly bullying Phoebe Prince to the point that she committed suicide. Prosecution of such cases are rare.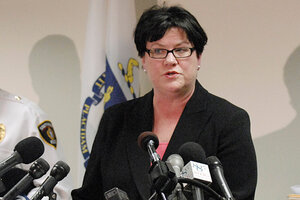 Michael S.Gordon/AP/The Republican
The Phoebe Prince case is shaping up to be this generation's Columbine moment for school bullying.
Criminal charges are being filed against nine Massachusetts teenagers accused of harassing the 15-year-old Irish immigrant to the point that she committed suicide.
The teens subjected Phoebe, who was a freshman at South Hadley High School, "to relentless activity ... designed to humiliate her and to make it impossible for her to remain at school," Northwestern District Attorney Elizabeth Scheibel said this week.
Prosecution of such cases is rare, making this a "watershed," says Elizabeth Englander, director of the Massachusetts Aggression Reduction Center in Bridgewater.
The case should prompt more communities to develop a comprehensive range of preventive measures and consequences – from encouraging bystanders to come forward to training adults how to respond, experts say.
---