Crist veto a victory for teachers against merit-based pay
But many education reformers see the Crist veto in Florida as just a temporary setback in their quest to improve teaching and teacher compensation.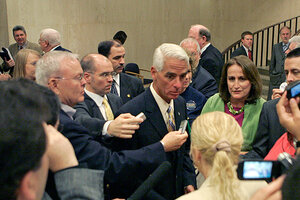 Steve Cannon/AP
Florida Gov. Charlie Crist (R) on Thursday vetoed a bill that would have radically altered teacher tenure and compensation systems throughout the state.
Teachers' unions and school boards mounted a vigorous campaign to stop the bill, alarmed at how it would have removed tenure possibilities for new teachers and based evaluations largely on student academic gains. With the Crist veto, they won the day. But many education reformers see the veto as just a temporary setback in a march toward breaking down the status quo and ultimately improving the teaching profession.
"We're seeing ... more movement than we have in decades in education reform – particularly around [rewarding] great teachers and leaders," says Ellen Winn, director of the Education Equality Project, a national coalition that advocates for closing achievement gaps. The Florida bill wasn't perfect, she says, but it was groundbreaking as a statewide attempt to reward teachers for boosting their students' skills.
Several school districts around the country have experimented in recent years with tying teacher pay to student academic growth. President Obama and Education Secretary Arne Duncan have also used federal grants to promote the idea – raising concerns that too many good teachers are driven out of the profession because they aren't rewarded for the great strides their students make. But they've been careful to emphasize that performance pay systems are complex, and need to be developed in cooperation with teachers, not imposed on them.
---