Colorado latest battleground for teacher performance
Legislation in Colorado would put teachers on probation based in part on student scores on standardized tests. It's part of a trend around the country that teacher unions find threatening.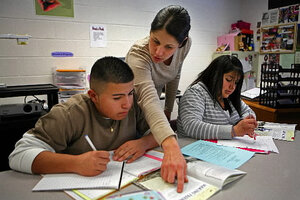 Melanie Stetson Freeman/The Christian Science Monitor/ File
Colorado is the latest battleground for changing the way public school teachers are evaluated and protected in their jobs.
One provision in a controversial, fast-moving bill there: Teachers deemed ineffective for two years in a row could be put back on probation, losing the right to a hearing before being dismissed.
The bill has passed in the state Senate and will be up for a vote early next week in the House if it passes through the appropriations committee Friday. It would base part of teacher performance reviews on how well their students improve each year academically. Teachers would earn nonprobationary status by being judged effective for three years in a row.
Colorado is vying for a share of more than $4 billion from the US Department of Education's Race to the Top competition. States can earn points for meeting a range of criteria, including creating links between teacher evaluations and measurable student progress. Education experts credit the competition for accelerating statewide education reforms that could barely get a foothold a few years ago.
If the bill becomes law, "it's going to be very significant for the Obama administration [as a] progressive change in education that's tied directly to their Race to the Top," says Joe Williams, executive director of Democrats for Education Reform, a national political action committee in New York.
---