Zuckerberg's $100 million for Newark, N.J., schools stirs controversy
Facebook CEO Mark Zuckerberg intends his $100 million gift to boost student achievement in Newark schools. It's a vote of confidence, too, in Mayor Cory Booker. Do charter schools and merit pay lie ahead?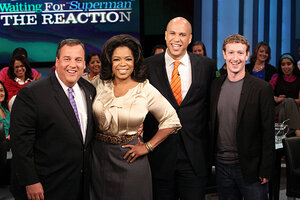 George Burns/Harpo Productions, Inc./AP
Facebook CEO Mark Zuckerberg is teaming up with Newark Mayor Cory Booker to try to boost achievement in the New Jersey city's troubled schools – and shine a national spotlight on potential models for education reform.
Mr. Zuckerberg made his debut Friday as the latest high-profile education philanthropist by announcing a gift of $100 million to the Newark schools on "The Oprah Winfrey Show." The challenge grant is to be matched by additional fundraising and distributed over the next five years by his new foundation, Startup: Education.
Zuckerberg has been contemplating making a gift to education and was inspired by Mayor Booker's vision for Newark when the two met at a conference this summer.
"School districts need more autonomy and clearer leadership so they can be managed more like startups than like government bureaucracies," he wrote on his blog Friday. "Like any startup, the key to making this work is finding great leaders and the right market that's ready for change."
Newark's schools have been under state control because of a dismal record, including a graduation rate hovering just above 50 percent.
But New Jersey Gov. Chris Christie's move Friday to give the mayor significant authority to implement a comprehensive plan for the school district is stirring up some controversy in Newark, which is transitioning back to local control of schools and does not have an official system of mayoral control as do cities such as New York and Washington.
Both Booker, a Democrat, and Christie, a Republican, support reforms such as tying teacher pay in part to students' academic improvement and expanding school choice through public charter schools.
---