Can 'take-no-prisoners' superintendent save scandal-plagued Atlanta schools?
Atlanta's new interim superintendent has given new powers to whistleblowers and is eyeing bonus policies that rewarded high test scores.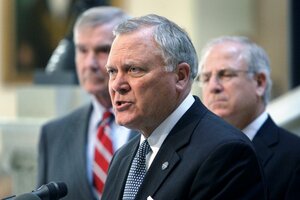 Bob Andres / Atlanta Journal & Constitution / AP
In the wake of its massive cheating scandal, the Atlantic Public School district is trying to move forward on more solid ground. Among its first steps: new whistleblower procedures and ways to monitor unusually high test-score increases.
Brand-new interim Superintendent Erroll Davis Jr. announced his preliminary plan yesterday, saying more details will come after he's had a chance to thoroughly review the 800-plus page state report that implicated district leaders and 178 educators in the manipulation of state tests.
"I believe that we must change the culture of the organization. We have to move to a more open, more transparent, and more empowering culture," Mr. Davis said at Thursday's board meeting.
The board has suspended its search for a new permanent superintendent, giving Davis 12 months to effect that kind of cultural transformation.
That was a wise move because Davis's business background and "straight-ahead, take-no-prisoners approach may be what is needed" in the short term, says Mark Musick, an Atlanta resident and president emeritus of the Southern Regional Education Board.
Davis is the former president and CEO of the multi-billion-dollar Alliant Energy Corporation.
Systemic changes at Atlanta Public Schools
---