Feds warn colleges: handle sexual assault reports properly
The Obama administration has taken a tougher stance after federal officials saw problems at a number of schools. But some say the administration is taking things too far.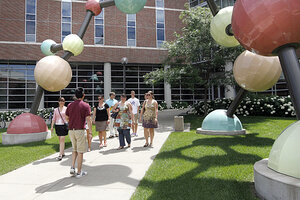 Photo Illustration: Zuma Press/Newscom
The Obama administration is holding colleges' feet to the fire when it comes to how they handle reports of sexual violence and harassment.
The tougher stance comes after federal officials saw problems at a number of schools that led some victims of sexual violence to feel revictimized by campus policies and procedures. The Obama approach also follows years of perceived inattention to the issue by the Bush administration.
With the school year under way at many colleges, at least one student – at the College of New Jersey – has already told authorities she was the victim of a sexual assault.
All colleges are now on notice that they must ensure they're responding promptly and fairly to reports of sexual misconduct. Federal officials have launched investigations based on information that concerns them about certain campuses.
"In many ways, there is a new sheriff in town," says Lisa Maatz, director of public policy at the American Association of University Women in Washington.
But some academic-freedom advocates say the sheriff has gone too far. In particular, they're concerned that the standard of proof the Obama administration is urging will wrongly take down some of the accused.
US officials want "to sort of shortcut the process of justice by making it easier to convict," says Robert Shibley, senior vice president of the Philadelphia-based Foundation for Individual Rights in Education (FIRE).
---