Alabama immigration law leaves schools gripped by uncertainty
A judge upheld a provision in the Alabama immigration law that forces public schools to check the immigration status of new students. Schools are scrambling to determine the impact.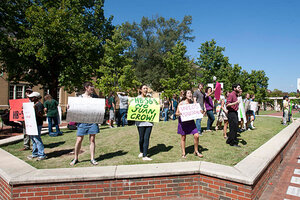 Robert Sutton/Tuscaloosa News/AP
Thursday Alabama became the first state in the nation to require public schools to check the immigration status of children when they enroll.
A judge's ruling Wednesday upheld several portions of Alabama's tough new immigration law, including the section on public-school enrollment.
Advocates of the law say it doesn't block enrollment in schools, but simply enables the state to track the number of illegal-immigrant students and calculate the costs associated with educating them.
Opponents argue that in the broader context of the immigration-enforcement law, the school provision will serve as a barrier for many families and end up denying innocent children their constitutional right to a public education.
Civil rights and immigrant advocacy groups are already planning their appeals, but in the meantime, parents and educators are trying to sort out exactly how the law will play out in schools.
"This will have an incredibly chilling effect on children and on parents," says Mary Bauer, legal director of the Southern Poverty Law Center, one of the groups challenging the law in court. Coupled with other parts of the law, "it turns school officials and other government officials into, kind of, immigration agents, and that's a terrible message for kids and families."
For example, parts of the law require government officials to report illegal immigrants, says Ms. Bauer, so "there's a real risk that the law will be read to require schools to make reports of undocumented individuals," she says.
But state officials have decried what they call "fear-mongering" among critics.
What the law does
---