Death by hazing? Why even tragic FAMU case won't end such rituals.
Initiation rites are so ingrained in parts of college life that even egregious incidents aren't enough to eradicate hazing, experts say. Investigations into last month's death of a FAMU band major are under way.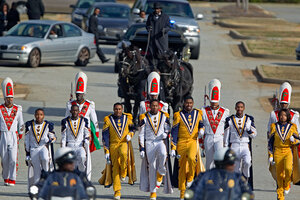 David Goldman/AP
Hazing is so ingrained in various aspects of college life that even egregious incidents – such as allegations that a Florida A&M University (FAMU) marching band drum major died as a result of the rite – won't be enough to eradicate it, say some experts.
A criminal investigation into the death of student Robert Champion, allegedly tied to hazing, is under way. The university in Tallahassee has expelled four students and dismissed the longtime director of the Marching "100" band. Florida Gov. Rick Scott (R) has called for all state universities to review their antihazing policies to ensure they're being enforced.
Though the Champion case has generated a flurry of national attention, hazing is so prevalent in college athletics, Greek organizations, and, in this case, prestigious historically black marching bands that experts are skeptical it can be ended.
One reason: Deaths and serious injuries have happened before in various college organizations because of hazing. At FAMU, band member Marcus Parker won $1.8 million in a 2001 lawsuit against fellow band members because of injuries from severe paddling.
Because the marching band is so central at many historically black universities such as FAMU – carrying more status than playing on the football team – "it's almost like the students hurt or killed are acceptable losses but the band must play on," says Ricky Jones, a professor at the University of Louisville and author of "Black Haze," a book on black Greek-letter fraternities.
---