Why New Hampshire lets parents have broad say over children's coursework
A new law in New Hampshire lets parents object to school coursework and request that their children learn alternative material. It may readjust the balance between parents' rights and educators' judgment.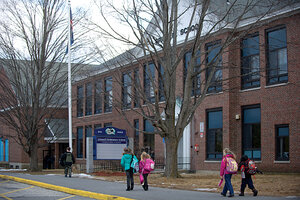 Ann Hermes/Staff
Parents in New Hampshire now have the broadest rights in the United States to demand alternatives for their children if they are concerned about what's being taught in a public school.
A new law here goes beyond student exemptions from sex education or health lessons, which are typical in other states and often must be based on religious grounds. It requires school districts to allow "an exception to specific course material based on a parent's ... determination that the material is objectionable."
Taking effect in January after the majority-Republican legislature overrode the Democratic governor's veto, the law does have some limits: An alternative for a child has to meet state requirements for the given subject area, be agreed to by the school, and be paid for by the parent.
The law has stirred controversy over how to strike a balance between parents' rights and educators' judgment in determining what and how students should learn.
More broadly, the law raises the question, "How wide can we make the circle in our public schools in terms of helping families to feel welcomed and feel their beliefs and perspectives are accommodated?" says Robert Kunzman, an education professor at Indiana University in Bloomington who has studied homeschooling and the intersection of education and religion.
It's helpful for a community to make some accommodations and include students who might otherwise be pulled out for homeschooling, Professor Kunzman says. But "certainly there have to be limits to that, both in matters of practice and principle."
It won't be until school districts in New Hampshire begin to field requests from parents that the law's parameters will be more clearly drawn. Backers of the law offer different views of the scope they expect it to have, and administrators are asking what will happen if parents and school officials can't agree on an acceptable alternative.
---