Lesson of L.A. teacher sex-crime case: Heed children who report abuse
Mark Berndt, who taught at a Los Angeles school for more than 30 years, is charged with 23 counts of committing lewd acts on children since 2005. Two former students say they reported him 20 years ago.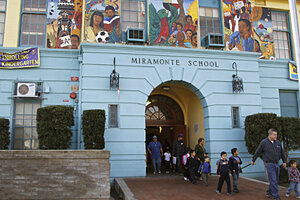 Damian Dovarganes/AP
Shocking charges that surfaced this week against Mark Berndt raise questions about how long teachers may be able get away with sexually abusing their students before the law catches up with them.
Students are often afraid to report incidents of abuse, victim advocates say, and when they do, too often their stories are dismissed or don't lead to officials stopping the educator from abusing again.
"That message can never stop, that children need to be believed," says Terri Miller, president of Stop Educator Sexual Abuse, Misconduct, and Exploitation, based in Las Vegas. School staff sometimes ignore warning signs or reports "because they don't want to deal with the … cloud of shame that hangs over a school when these cases come to light," she says.
Mr. Berndt taught at Miramonte Elementary School in the Los Angeles Unified School District for more than 30 years. He was suspended and resigned in early 2011 when the county sheriff's department began investigating charges that led recently to his arrest on 23 counts of committing lewd acts on children.
Those charges date back to 2005. But the alleged troubling behavior may have started much earlier, authorities say.
In 1994, Berndt was investigated by the sheriff's department, but not prosecuted, for allegedly trying to fondle a 10-year-old girl, the Associated Press reported Thursday afternoon.
Two women also said this week that when they were students of Berndt's in 1990-91, they told a counselor of behavior in the classroom that implied that he was fondling himself, the Los Angeles Times reports. One of the women said the counselor "told us it's not very good to make stories up. She said it was our imagination."
The school district is launching its own investigation into how Berndt's alleged behavior could have gone on undetected for years. The case came to light when a photo developer called law enforcement officials in late 2010 about incriminating photos, the LA Times reports.
---