Back to school: How to measure a good teacher
Back to school: Perhaps the most controversial education reform is how to measure a good teacher. As the trend to overhaul teacher evaluations catches fire, some teachers find that new feedback and mentoring programs can lead to 'incredible' results with their students.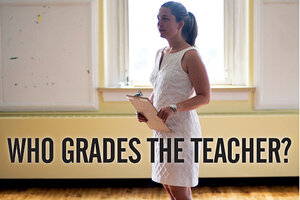 Ann Hermes/Staff
For most of her 11 years of teaching elementary school, Amanda Newman was considered a perfect teacher. She almost always walked out of her principal's annual evaluations with a score of 144 out of 144, a smile on her face, and no suggestions for improvement. She knew she was good at turning out second-graders who could add, subtract, and spell – but she suspected her "perfect" evaluations masked much that she could do better.
Indeed, when her Hillsborough County, Fla., school district overhauled its teacher evaluation program two years ago, Ms. Newman was no longer considered "perfect." But, with new specific guidelines and feedback on her teaching technique, Newman explains, she began to push the kids in ways she never would have thought second-graders capable of, and their performance soared. The mean standardized test score for reading in her second-grade class moved from the 41st percentile in 2010 to the 60th this year; in math the mean moved from the 50th to the 69th percentile.
---