Chicago teachers strike: Is Rahm Emanuel's test a challenge for Obama?
The Chicago teachers strike takes the struggle over union demands to a bastion of Democratic control, a concern for Mayor Emanuel and President Obama, who will need union support in November.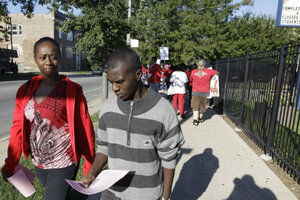 M. Spencer Green/AP
Some 400,000 Chicago public schoolchildren stayed home from school Monday, the result of a surprise teacher's strike that is seen as the first significant political test for Chicago Mayor Rahm Emanuel that could also impact President Obama's reelection bid.
The Chicago Teacher's Union announced plans to strike late Sunday evening, following a weekend of marathon negotiations that derailed over union objections to a proposed longer school day and teacher accountability measures.
The 29,000-member union is rejecting the school district's proposed 16 percent salary increase over four years, saying it does not adequately compensate for the rising costs of health care and other benefits. Also at stake is job security: The union wants a policy in place to hire laid-off teachers once new positions are available in the schools. Union negotiators also say that a new teacher evaluation system, which uses student performance on standardized tests as a factor in assessing the effectiveness of teachers, is unfair and could cost teachers their jobs.
The strike is historic considering the last teacher walkout was 25 years ago. It lasted 19 days. Since then, the teacher's union has complained of a continued drain on resources in classrooms, the deteriorating infrastructure of schools, the diversion of resources to the non-union, public charter school system, and the new lengthened school day imposed this year by the state, at the urging of the mayor.
---