Common Core promises new tests. Will they be better than the old ones?
Even before teachers have switched to new Common Core curriculum, new assessment tests are in the works. Teachers hope they'll be better than the current fill-in-the-bubble ones.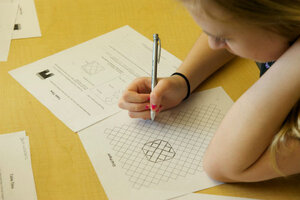 Barbara Colombo/Special to The Christian Science Monitor
Tests that can assess students' mastery of skills and knowledge are as important as the Common Core standards themselves, say many educators and education reformers.
Will the tests that accompany Common Core be any better than those states are using now?
The hope is they will be, but it will be about two years before the answer is clear.
The federal government has helped fund several state-led consortia to develop new assessments aligned to Common Core, including the Partnership for Assessment of Readiness for College and Careers (PARCC) and the Smarter Balanced Assessment Consortium.
The tests won't be ready until the 2014-15 school year, but their goal is to measure individual growth as well as proficiency and help determine whether students are on track for college and career readiness. Both PARCC and Smarter Balanced would offer optional midyear and diagnostic assessments to help inform instruction, and Smarter Balanced plans to use some computer-adaptive testing, which bases the difficulty of future questions on previous answers.
For many educators, the hope is that the assessments will be much more thoughtful and informative than the current fill-in-the-bubble standardized tests.
"Common Core called for much more higher-order thinking skills and performance abilities," says Linda Darling-Hammond, a Stanford education professor who advises Smarter Balanced and has researched the costs and benefits of the new tests. "It certainly is an opportunity [for better assessments]. Whether we will take advantage of that opportunity is to be seen."
---