Obama, on bus tour, to unveil new strategy to curb college costs
College costs increased 600 percent in the past 30 years, and federal aid enabled it. What's needed is a 'shake up,' Obama told supporters – and it may not be popular with 'some who've made higher education their business.'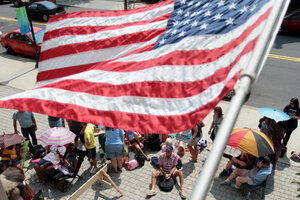 Jake D. Stevens/Scranton Times & Tribune/AP
President Obama is using the slow August news cycle to call attention to an issue that has long been a focus of his: college affordability.
As he begins a bus tour in upstate New York Thursday, in which he plans to stop at three colleges and one high school, Mr. Obama has promised to unveil a plan "to make college more affordable, tackle rising costs, and improve value for students and their families." The plan links student aid to a new college rating system that measures outcomes for students, such as affordability, graduation rates, and earnings of graduates.
In a letter e-mailed to supporters Tuesday, Obama noted that average tuition at a public four-year college has more than tripled over the past three decades, and that the average student today graduates with more than $26,000 in debt.
"Just tinkering around the edge won't be enough," he wrote, noting that his plan may not be popular with "some who've made higher education their business." "We've got to shake up the current system."
Between 1982 and 2012, college tuition and fees have risen, on average, by 603 percent, according to data compiled by the Higher Education Policy Institute. Over that same period, the Consumer Price Index has risen 130 percent, and median family income 148 percent.
It's a cycle that's tough to break: Students face more pressure than ever before to go to college, in an economy in which, increasingly, a post-secondary degree is necessary to break out of minimum-wage territory. Government assistance has vastly expanded to help students get that education, but it also fuels spiraling costs.
---