An iPad for every student? What Los Angeles school district is thinking.
The Los Angeles Unified School District is passing out iPads to all 650,000 of its students this fall, part of a $1 billion high-tech investment. Whether that's a smart move depends on teacher training and a host of other factors, experts say.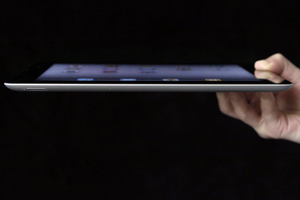 Jeff Chiu/AP
America's second largest school district will be giving all its students iPads, a move that is eliciting a great range of reactions – delight from kids, excitement from teachers, and debate and concern from education analysts.
Two elementary schools within the Los Angeles Unified School District (LAUSD) were the first to distribute iPads to students on Tuesday. Forty-five more campuses (kindergarten through high school) will roll them out to all the district's 650,000 students during the next two weeks. Pre-loaded with educational software, each costs $678, more than in stores. A wireless network must be installed on every campus, as well.
The district's iPad investment is raising a host of educational and legal questions, given that students will be taking the tablet computers home. Among them are school spending rules, bond disclosure requirements for the $1 billion needed to fund the program, and the lifespan of the iPads.
So far, the pluses outweigh the minuses in every discussion at LAUSD. Those include the promise of greater joy and flexibility for teachers and students, and a more level playing field of opportunity for poorer students. Possible downsides include distraction in the classroom and the need to provide time for teachers to learn what the iPad can do.
"There is a huge history in American education of being attracted to the new, shiny, hugely promising bauble and then watching the idea fizzle because teachers weren't properly trained to use it and it just ended up in the closet," says Renee Hobbs, professor and founding director of the Harrington School of Communication and Media, at the University of Rhode Island. One such device, she says, was the video disc player, which allowed teachers to navigate through video material with great precision, instantly, for lessons. A plus for the iPad, she adds, is that it is already a consumer item with a track record, much like the VHS, which was picked up by schools and used successfully.
Exactly what programs are used on the iPad and how creative teachers will be in using them are of concern for education experts.
"Using an iPad just to say you're using an iPad won't help students. But using an iPad to open the door to new methods of individualized instruction and student expression is an exciting development in education," says Sherri Hope Culver, director of the Center for Media and Information Literacy at Temple University. "Integrating media literacy education into all classrooms is critical. But technology in the classroom should always be in the service of learning."
---