Carl Paladino takes tea party to Andrew Cuomo in NY governor race
Carl Paladino, a millionaire Buffalo developer, rode a wave of conservative tea party anger on his way to delivering another blow to the GOP in a heavily Democratic state. Paladino takes on Andrew Cuomo in the November election.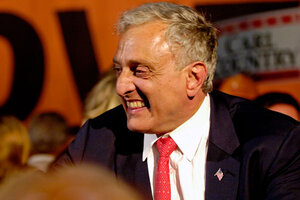 Don Heupel/AP
Tea party activist Carl Paladino wasted no time in setting his sights on Democrat Andrew Cuomo after confounding pundits and rolling over the leaders of New York's Republican and Conservative parties with a stunning win in the GOP primary for governor.
"Andrew Cuomo has to answer to the people," Paladino said Tuesday after defeating Republican Party designee Rick Lazio, a former congressman. Cuomo "is going to have to debate me. I'll debate him 49 days if there are 49 days between now and then."
"He was never vetted. He came in on Spitzer's coattails," Paladino said, referring to former Gov. Eliot Spitzer, who resigned in disgrace following a prostitution scandal after he led the 2006 Democratic ticket that included Cuomo as the attorney general nominee.
Paladino says he will succeed in fixing Albany's corruption and dysfunction because he's not a professional politician. Paladino is one of several candidates that received a boost from tea party activists in this 2010 primary.
---