Headlining in Chicago: Bill Clinton, stumping for Rahm Emanuel
Former President Bill Clinton visits Chicago to support Rahm Emanuel's bid for mayor.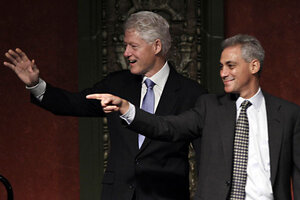 M. Spencer Green / AP
Former President Bill Clinton injected star power into the Chicago mayoral race Wednesday, delivering a speech in downtown Chicago to support candidate Rahm Emanuel. He said that his former fundraiser and top advisor would become "a gale force of leadership" for the city if elected.
Mr. Clinton called the involvement of Mr. Emanuel in his first presidential campaign one of the "pivotal" reasons for his election and said he possessed "the skill set and the values and the sheer raw determination" to be mayor.
But did Emanuel need the help? He is already polling in the double digits ahead of his competition, he has the greatest name recognition and war chest, and the challenge to remove his name from the ballot due to residency issues appears to be languishing in the state court system.
US Rep. Danny Davis (D), an early candidate in the race who dropped out to endorse former US Sen. Carol Moseley Braun, warned Clinton in late December not to come to Chicago on Emanuel's behalf, saying it would jeopardize the former president's goodwill within the black community that had supported him for nearly two decades.
"Some of that relationship may be fractured and perhaps even broken should [Clinton] … participate overtly in efforts to thwart the legitimate political aspirations of Chicago's black community," Davis said in a statement.
Clinton ignored the call and arrived in town anyway. His appearance shows both the resilience of his support within Chicago's black community, and also Emanuel's need for credibility within those circles.
---