How North Carolina gay-marriage vote could hurt Obama reelection bid
President Obama is in an awkward spot on gay marriage, and Tuesday's vote to ban gay marriage in North Carolina – a swing state – highlights a potential vulnerability in November.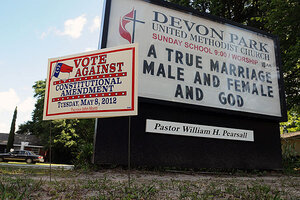 Ken Blevins/The Star-News/AP
Coming only days after two prominent members of the Obama administration professed their support for gay marriage, a vote on the subject Tuesday in North Carolina – a key swing state – could complicate the president's reelection efforts.
The ballot initiative would ban same-sex marriage and civil unions, and polls suggest that it is likely to pass. Yet earlier this week, Vice President Joe Biden and Education Secretary Arne Duncan offered their support for gay marriage. Caught between the swing voters who could tilt the presidential election and his more-liberal base, President Obama has so far resisted pressure to endorse same-sex marriage even as he has continued to solicit gay donors aggressively.
This has put him in an increasingly tough spot – and the North Carolina vote could make his balancing act even tougher.
"The gay marriage issue is an awkward one for Obama at present, given his differing views on the issue with his own vice president and other administration officials," says Steven Schier, a political scientist at Carleton College in Northfield, Minn. "It's an issue that Obama wishes would go away until after the November elections. The North Carolina vote makes it less likely Obama will get his wish."
---