Why Tim Pawlenty remains high on Mitt Romney veep list
On Thursday, Condoleezza Rice became a hot topic as a vice presidential candidate. So, why is Tim Pawlenty still considered a better choice for Mitt Romney by some political pundits?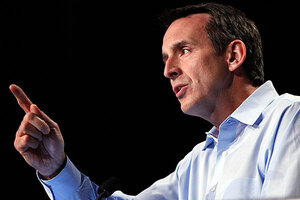 (AP Photo/Charles Dharapak, File)
As a presidential hopeful, Tim Pawlenty won respect among GOP insiders, social conservatives and the tea party movement. Far from the first love of any faction, he quickly washed out as a candidate.
Almost a year after he abandoned his White House bid, Pawlenty's reputation as being suitable but not a standout is actually fueling the speculation that the former Minnesota governor is a serious contender in Republican Mitt Romney's search for a running mate.
On Thursday, Condoleezza Rice became a hot topic as Matt Drudge, Rush Limbaugh, and Sarah Palin sang the praises of the former Secretary of State.
But Romney is keeping the process tightly under wraps. An announcement could come at any point between now and the Republican convention in late August. It's unclear who the Romney campaign is vetting, though Pawlenty's name comes up frequently in political circles as a prospect. Pawlenty himself isn't giving any clues even as Republicans debate the pros and cons of a Romney-Pawlenty ticket.
---