Los Angeles votes in mayor's race without a clear front-runner
The candidates in the Los Angeles mayor's race are both Democrats and have struggled to differentiate themselves. On Election Day, it's not at all clear which one might win.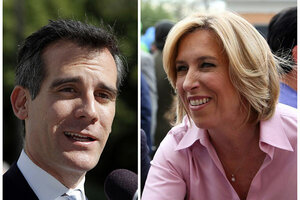 AP/File
Comedian Mort Sahl once called Los Angeles "100 suburbs in search of a city." As the nation's second largest metropolis votes for a new mayor Tuesday, it is also in search of a clear winner.
Two Democrats – former City Controller Wendy Greuel and former City Council President Eric Garcetti, are in a dead heat, vying for the top post. Voter turnout is expected to be low – though an extra push by both candidates for the absentee ballot nod is expected to help the numbers from falling to historic lows.
All in all, "this is a diffuse race with no clear front-runner," says Sherry Bebitch Jeffe, a senior fellow at the School of Policy, Planning, and Development at the University of Southern California.
Beyond the general voter apathy that bedevils many local races, Los Angeles politics also suffers from the city's far-flung geography, which breeds a disconnect between City Hall and the city's nearly 4 million residents. "City Hall is downtown and far away from most neighborhoods," says Ms. Jeffe. "Potholes and issues like that are what get attention, not the mayor's race."
People turn out to vote when they think that the outcome will make a big difference, agrees Jack Pitney, professor of government at Claremont McKenna College in Claremont, Calif. In this case, he points out that people don't see much daylight between the two candidates. "Both are progressive Democrats with ties to labor unions," he says via e-mail, albeit different unions.
The issue of pension-fund liabilities looms large over any California city because cities are on the hook for unmet pension payments to retirees. But, "either will have a hard time meeting the city's pension obligations," he says. "Neither can repeal arithmetic."
---