Herman Cain: What did he say about abortion?
Herman Cain came under attack for his pro-life position. What did Herman Cain say exactly?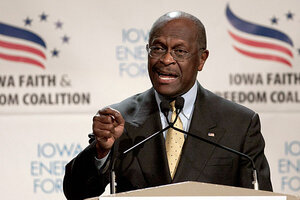 (AP Photo/Nati Harnik)
Herman Cain's been getting slammed by his opponents for statements he made in a recent interview with CNN's Piers Morgan suggesting that his position on abortion is, um, not particularly coherent.
You can watch the interview yourself, but we've transcribed the relevant bits below:
MORGAN: What's your view of abortion?
CAIN: I believe that life begins at conception and abortion under no circumstances - and here's why
MORGAN: No circumstances?
CAIN: No circumstances.
MORGAN: Because many of your fellow candidates - well, certainly, some of them - qualify that
CAIN: they qualify it, but
MORGAN: rape, and incest, and so on.
CAIN: rape and incest
MORGAN: Are you honestly saying - a tricky question, i know
CAIN: a tricky question
MORGAN: You've had children, grandchildren
CAIN: Yes
MORGAN: If one of your female children, grandchildren was raped, you would honestly want her to bring up that baby as her own?
CAIN: See, you're mixing two things here Piers.
MORGAN: Why?
CAIN: You're mixing two things here
MORGAN: But that's what it comes down to
---