Mitt Romney as Regular Joe? Lessons from the Al Gore campaign
Democrats are going after Mitt Romney the same way that Republicans went after Al Gore, says a former Bush White House adviser. What can Mitt Romney learn from history?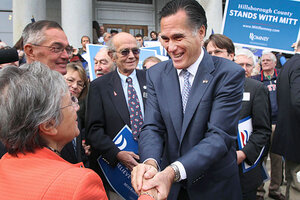 (AP Photo/Jim Cole)
Lessons for the Mitt Romney campaign from Al Gore?
Decoder had a recent email exchange with Mark Pfeifle, part of the Republican National Committee's message machine in the 2000 election cycle, in which Pfeifle noted some strong parallels between how Republicans went after Al Gore and how Democrats are now trying to characterize Mitt Romney.
For example, back in August, Romney tweeted about eating breakfast at Subway and flying commercial (on low-cost provider Southwest Airlines, no less):
"Thanks @subwayfreshbuzz for breakfast. Better than usual campaign diet of morning donuts."
That drew an immediate response from Bill Burton, the lead attack dog at Democratic "Super PAC" Priorities USA:
"When Governor Romney decided that he would say or do anything to get elected, you have to imagine he didn't think it would involve flying in non-private aircraft and eating at Subway. In fairness, as someone who made a vast fortune laying off American workers his identity is indeed in need of a makeover. (And quadrupling his beach home in an exclusive San Diego neighborhood isn't exactly helping that effort.)

But in his attempted makeover, Governor Romney is simultaneously highlighting a key weakness: he is willing to do or say anything to become President, even if it means changing his positions, his appearance, and his sandwich."
---
Follow Stories Like This
Get the Monitor stories you care about delivered to your inbox.