GOP debate in Iowa: Best quotes out of the night
A summary of the one-liners delivered by Republican candidates in Sioux City, Iowa Thursday night.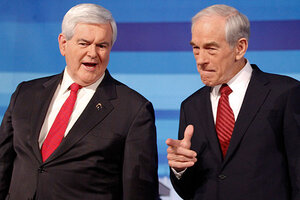 (AP Photo/Chris Carlson)
Republican presidential hopefuls competing to challenge U.S. President Barack Obama in 2012 faced off in a debate on Thursday in Iowa, where the state-by-state Republican nominating contest kicks off in less than three weeks.
Here are some of their key quotes.
NEWT GINGRICH, FORMER SPEAKER OF THE HOUSE OF REPRESENTATIVES
Defending his merit as frontrunner:
"I believe I can debate Barack Obama and I think in seven three-hour debates Barack Obama will not have a leg to stand on."
Before answering a question on the Keystone Pipeline, referencing a Mitt Romney suggestion that Gingrich's ideas are "zany.":
"You know I sometimes get accused of using language that's too strong. So I've been standing here editing. I'm very concerned about not appearing to be zany."
RECOMMENDED: Eight unusual ideas from Newt Gingrich
MITT ROMNEY, FORMER MASSACHUSETTS GOVERNOR
On how he compares with Gingrich:
"I spent my life in the private sector. I can debate President Obama based upon that understanding. I'll have credibility on the economy when he doesn't. I know what it takes to get this economy going. The president doesn't."
MICHELE BACHMANN, U.S. CONGRESSWOMAN FROM MINNESOTA
On Gingrich's work for mortgage giant Freddie Mac:
---