Newt Gingrich fades, Mitt Romney and Ron Paul rise, say polls
Newt Gingrich's support is fading, says a new national poll. It shows Mitt Romney now tied with Gingrich, and Ron Paul gaining momentum.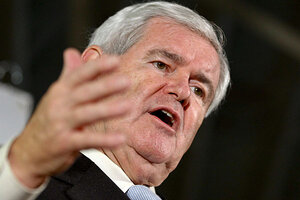 (AP Photo/Chris Carlson)
Former House of Representatives Speaker Newt Gingrich's status as the front runner for the 2012 Republican U.S. presidential nomination is fading after weeks of attacks by rivals and intense media scrutiny of his political record and personality.
Two new polls, one in Iowa and a national poll, show Gingrich backslidding.
Gingrich acknowledged that negative advertisements by political opponents had dented his popularity but suggested he would refrain from launching his own attacks while responding more aggressively to criticism of his record.
RECOMMENDED: GOP candidates positions on energy and the environment
"I will be back on a positive basis, I will ... tell you what I stand for and I will answer any question that comes up based on the false and inaccurate advertising of some of my friends," Gingrich told a crowd of about 250 people at a security business in Davenport, Iowa.
A national poll by CNN/ORC International shows that Gingrich and Romney were tied with 28 percent of support nationally from Republicans and Republican-leaning independents. Last month, in another CNN national poll showed Gingrich was leading Romney, 24 to 20 percent.
"Early-December polls from other organizations tended to show Gingrich's support in the mid-30s with Romney in second place, so the current figures indicate that Romney has recently gained ground at Gingrich's expense," says CNN Polling Director Keating Holland.
---