Does Ron Paul candidacy have legs beyond Iowa?
Ron Paul has surged in Iowa, according to recent polls. But how does Ron Paul's candidacy look in other key GOP primary states?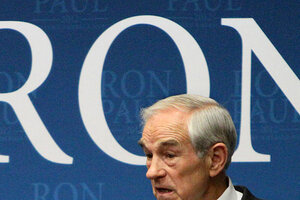 (AP Photo/The Quad City Times, Jeff Cook)
Congressman Ron Paul is one of the favorites to win the Iowa caucuses vote on Jan. 3 but his libertarian and isolationist message may to be too much for Republican voters and party grandees as the nomination process moves to other states.
"What he could do is turn a victory in Iowa into a heart attack for the Republican establishment. They see him as someone they really can't relate to very much," said Tobe Berkowitz, a communications professor at Boston University.
A poll this week showed Paul leading the race in Iowa, where he has a strong organization, ahead of Republican front-runners Newt Gingrich and Mitt Romney.
RECOMMENDED: Ron Paul roars: Five unorthodox economic views
But New Hampshire, the next voting state in the nomination race, is still a stronghold for Romney who leads polls here by double digits. The real key lies beyond the Jan. 10 New Hampshire primary when the focus shifts to the heart of the Republican primary states.
Most opinion polls for South Carolina, the third state to hold a 2012 Republican nominating contest, give a resounding "no" to Paul. The Texan has been polling in single digits in the state, home to many active and retired military personal who may not take kindly to Paul's non-interventionist military doctrine.
"He's a libertarian Republican. Will that play in South Carolina, Georgia and elsewhere? The fact that he's a libertarian throws a lot of monkey-wrenches into Republican orthodoxy," Berkowitz said.
---