Why Ron Paul says Mitt Romney can be caught
Ron Paul took second in Minnesota, and sees Mitt Romney losing momentum. Ron Paul is looking for a win in Maine on Saturday.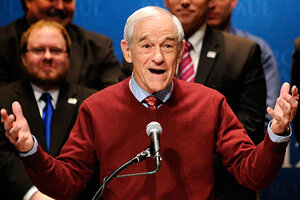 AP Photo/Jim Mone)
Republican Ron Paul said front-runner Mitt Romney's inability to brush back challenges in votes Tuesday "opens up the door" to him and others looking to deny the former Massachusetts governor the party's presidential nomination.
The Texas congressman was headed for a solid second-place in Minnesota's caucuses, which were won by former Pennsylvania Sen. Rick Santorum. Santorum also won Missouri and was in the hunt for a victory in Colorado's caucuses.
"I'm a little surprised. I thought Romney would have some of this automatic carryover," Paul told The Associated Press ahead of remarks to supporters gathered at a party near Minneapolis. "It certainly doesn't hurt us."
RECOMMENDED: Five unorthodox economic views from Ron Paul
Paul was on course to capture more than a quarter of Minnesota's vote. He was a distant third in Missouri's non-binding primary and far back in Colorado.
Paul said of the night's results, "I think it splits the vote and sort of opens up the door to us."
In Minnesota, Rick Santorum got 45 percent of the votes, Ron Paul finished second with 27 percent, Mitt Romney got 17 percent, and Newt Gingrich 11 percent.
In Colorado, Paul finished fourth with 12 percent of the votes, just behind Gingrich with 13 percent. Romney got 35 percent and Santorum won with 40 percent.
---