Rick Santorum tied with Mitt Romney in new national poll
Rick Santorum was slightly favored over Mitt Romney by Republican voters in a new national poll by Pew Research. But Rick Santorum's lead is within the margin of error.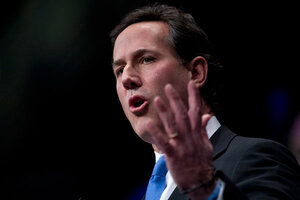 (AP Photo/Evan Vucci)
Republican presidential candidate Rick Santorum has surged into a statistical tie with front-runner Mitt Romney in a national poll on Monday, becoming the clear favorite of Tea Party voters and white evangelicals.
Thirty percent of Republican and Republican-leaning voters favored Santorum, while 28 percent preferred Romney, the Pew Research Center poll said.
Almost twice as many Tea Party supporters and white evangelical Christians chose the former US senator for Pennsylvania compared with Romney.
RECOMMENDED: 10 things to know about Rick Santorum
The Tea Party movement represents a loose-knit coalition of fiscally conservative activists who helped Republicans take back the House of Representatives in the 2010 elections.
The Pew poll also showed that Romney holds leads over Santorum among non-Tea Party Republicans (34 percent to 19 percent) and moderate and liberal Republicans (34 percent to 20 percent).
---