Ron Paul ad says Santorum is 'fake' conservative (+video)
A new Ron Paul ad says that Rick Santorum voted to double the size of the Department of Education. Why is Ron Paul hammering Santorum instead of Mitt Romney? credentials.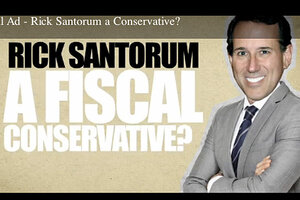 Ron Paul 2012/YouTube
TITLE: "Fake"
LENGTH: 30 seconds.
AIRING: On broadcast and cable in Michigan.
KEY IMAGES: Splashy sound effects and cut-outs of Rick Santorum are overlaid on a series of images designed to question the former Pennsylvania senator's credentials as a fiscal conservative. A male narrator asks: "Is this dude serious? Fiscal conservative? Really? Santorum voted to raise the debt ceiling five times, doubled the size of the Department of Education, then supported the biggest entitlement expansion since the '60s."
He continues: "Not groovy. Santorum voted to send billions of our tax dollars to dictators in North Korea and Egypt. And even hooked Planned Parenthood up with a few million bucks. Rick Santorum, a fiscal conservative? Fake."
ANALYSIS: Tied or leading in a slew of national and state polls, Santorum is now taking fire from all sides. With super PAC groups supporting former Massachusetts Gov. Mitt Romney already pouring millions into attack ads against him, Santorum is now taking fire from Rep. Ron Paul, a candidate with money to burn and, most believe, no chance of winning the Republican nomination.
---