Obama's lead over Romney shrinks in 12 swing states
A new Gallup/USA Today poll shows President Obama with 47 percent support in the 12 states and Mitt Romney with 45 percent. But Obama supporters are more enthusiastic about their candidate.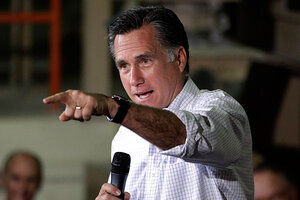 AP Photo/Jae C. Hong)
President Barack Obama and Republican challenger Mitt Romney are in a statistical dead heat in Ohio, Virginia and 10 other states up for grabs in the 2012 election, according to a poll released on Monday.
The poll by Gallup Inc. and USA Today showed Obama with 47 percent support in the 12 states and Romney with 45 percent, well within the survey's margin of error of 4 percentage points. That is a tighter race than in March, when it found the Democratic president with 51 percent and Romney with 42 percent.
Behind the numbers, however, Obama supporters appear to show stronger support and more enthusiasm for their candidate than backers of Romney, a former Massachusetts governor and business executive who had to fend off a handful of more conservative challengers during his party's nominating process.
---