Rice, McCain criticize Obama foreign policies without mentioning bin Laden
Condoleezza Rice was a Republican National Convention crowd favorite. Rice and Sen. John McCain hammered Obama on defense spending, and foreign policy. But no mention was made of the killing of Osama bin Laden.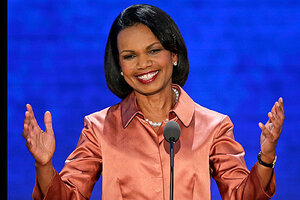 (AP Photo/J. Scott Applewhite)
Republicans delivered a scathing indictment of President Barack Obama's national security policy, although the Democrat's aggressive approach has often been compared to that of his Republican predecessor, George W. Bush.
Defense and foreign policy, largely a footnote during the first two days of the Republican convention, were the core of speeches by Sen. John McCain, Obama's presidential rival in 2008, and Condoleezza Rice, Bush's secretary of state. Neither uttered Obama's name Wednesday night in their prime-time remarks, but the target of their criticism was clear.
"For four years, we've drifted away from our proudest traditions of global leadership," McCain said. "We've let the challenges we face, both at home and abroad, become harder to solve."
RECOMMENDED: Are you more (or less) conservative than Mitt Romney? Take the quiz
He faulted Obama for cuts to projected defense spending, a timetable for withdrawing U.S. forces from Afghanistan and an unwillingness to use more U.S. military force to stop the months of bloodshed in Syria. McCain drew the loudest applause when he criticized the government over suspected national security leaks.
---