Recount may loom amid confusion in Connecticut governor race
The secretary of state declared Democrat Dan Malloy the winner Wednesday in the Connecticut governor race, before the release of official numbers. Republican Tom Foley says his own tally puts him ahead.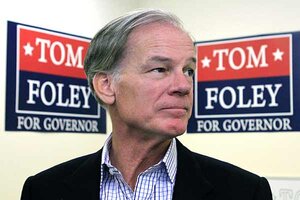 Charles Krupa/AP
Remember in 2000 when presidential candidate Al Gore thought he won in Florida and it took weeks of lawyers looking at "hanging chads" to declare George W. Bush the winner there? The Connecticut governor's race may become a case of Florida déjà vu.
Connecticut Secretary of State Susan Bysiewicz, on the basis of unofficial results, has declared Democrat Dan Malloy the victor over Republican Tom Foley. But she says the margin of victory was a meager 3,103 votes out of more than 1 million cast.
By Mr. Foley's count, he thinks he won by 2,000 votes. On Thursday morning, the Associated Press, which had declared Mr. Malloy the winner, withdrew its announcement and said Foley was ahead by 8,424 votes. But AP did not announce any winner.
In an interview Thursday, Foley is calling for Ms. Bysiewicz to publish her numbers. "We assume she has the data to back that up," he says. "We've asked her to put it on her website; she hasn't done it. I don't know, if it's a close race, why an officer of the state would be calling a race, particularly in favor of someone from her own party."
Foley says his campaign has a meeting Thursday with Bysiewicz to try to reconcile the difference, and he has teams in Bridgeport, New Haven, and Hartford to "confirm the results they recorded are accurate."
---
Follow Stories Like This
Get the Monitor stories you care about delivered to your inbox.