House Republicans at risk? Districts where Democrats hope for upsets
Democrats are expected to lose House seats in Election 2010, but in districts where demographics are shifting their way they are working to upset Republican incumbents. California's Third District is one.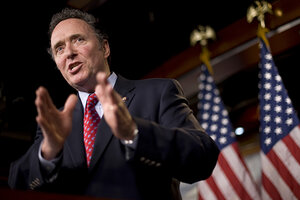 NEWSCOM
At a house party for Ami Bera's congressional campaign, attendees peppered the candidate, a doctor, with questions about education and health care. His voice raspy from constant campaigning, Dr. Bera answered gamely, but he really hit his stride when the questioners mentioned his opponent.
"We have to take the reins back and make government understand that it serves the will of the people," Bera said, his voice rising.
In this year of dissatisfaction with government, that rhetoric seems normal, even boilerplate. But this instance is notable because Bera is a Democrat.
Though Democrats are all but certain House seats in November, the party has developed a plan to go on the offensive in particular places this November – and Bera is a key part of it. The Democrats are targeting 17 districts where they believe the Republican incumbent is vulnerable, including California's Third Congressional District, where Rep. Dan Lungren (R) won in 2008 with less than 50 percent of the vote.
At the core of the Democrats' strategy is demographics. The 17 districts are largely places that have been transformed by infusions of young people and immigrants, changing their character and – Democrats hope – making them ripe for a switch from red to blue on the congressional map. In this way, California's Third District is a window into one of the rare places where Democrats are not on the defensive, but instead are seeking to turn the antiestablishment mood of this election cycle to their advantage.
---