Dennis Kucinich out: Left loses a combative, cheerful voice in Congress
Former presidential candidate Dennis Kucinich lost in the Democratic primary Tuesday to Rep. Marcy Kaptur after their Ohio districts were merged by a Republican redistricting plan.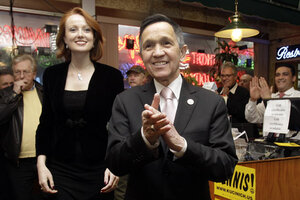 Amy Sancetta/AP
Dennis Kucinich, the so-called boy mayor who eventually turned presidential candidate, may have reached the end of his career in elective politics.
In Tuesday's Ohio primary vote, he fell victim to redistricting, losing to another sitting member Congress in the Democratic primary. Instead of Representative Kucinich, the Democratic candidate for Ohio's recently redrawn 9th district will be Rep. Marcy Kaptur.
Kucinich carved out a profile on the national stage as a fighter for progressive and populist causes. Though he stood shorter than many of his political rivals, his droll humor and quick wit sometimes allowed him to tower over opponents, at least judging by the applause he elicited from the party faithful.
But he drew only a slender share of the popular vote in his primary-race efforts to become the party's presidential nominee in 2004 and 2008. The very things that endeared him to some voters made him "unelectable" to others.
His primary loss Tuesday night was rooted in shifts in the US population, which cost Ohio two of its 18 seats in Congress heading into this year's election. Kucinich and Ms. Kaptur, a 15-term congresswoman, found themselves facing off in a Republican-drawn district that stretches along the shore of Lake Erie from Toledo (Kaptur's turf) to the Cleveland area (Kucinich's).
---